In short, after approaching to the account, you can get the details and secrets of that person.
How To Spy Any Mobile Without Touch 2017
Hacking in the past time known to be a difficult thing people think that it is a work in which lots of coding is involved. The experts there on the internet share some of the easy processes by which you will get the ability to access someones Facebook messages. Did you ever try to search for a process through which you can access the Facebook message of others? When you search online now, then there you finding several ways for hacking but which method is good and safe for you did you know that.
Every method which is there for the hacking is good in its own way; they all have their own importance because of which people trust them.
Install Apple iPhone 6 Tracker;
All Feature GuestSpy Mobile Spy App;
Is There a Way to Enable Parental Controls on iPad;
How To Hack Someone's WhatsApp Without Their Phone?;
You can go for free hacking just by using any of the apps which allow you to do the hacking of the Facebook messages. There you can also download some of the applications which are meant for the hacking process. Without using victim cell phone do you know how you can hack its Facebook messages. Here in this article, we will continue to discuss about all the methods which are meant for the Facebook hacking.
Part 1: How to spy on whatsapp messages without target phone?
Mainly there are three ways by which you can hack Facebook account: Most of the hackers who are experts, suggest you go with this method because this is the safe and reliable way of hacking. This develops trust and all possible discretion with which you are not at all aware. In this method, you can do hacking just by using the software.
TheTruthSpy is one of the best examples of the hacking software. This is one of the trusted sites which people use. On their site, you can also go through the reviews that let you know the reason why people trust this software. They have all untraceable activities and have its own interest in securing or protecting your privacy. If you get stuck in any of the problems then there you can take help from the technical team of the app.
By using that password, you can access the victim Facebook account at any time without knowing them.
How to spy on someones Facebook messages without touching their cell phone
Can have a look on all major social media platform: It is also known to be the bunch of features. There you can check out each and every aspect of the target phone. Internet browser, calls, and messages logging: There you can access the target phone history and can get to know what activities they had performed on their phone in the past few days.
This fb messenger spying app will help in spying on someone without them knowing about it. It is very secure, and since FB has many legal restrictions, this is the most secure way.
Here is the Surest Ways to Inspect Multimedia Content;
How to spy on someones Facebook messages without touching their cell phone?
How to spy on WhatsApp WhatsApp tracker free(That Actually Work)?
You can get hack facebook messages without letting the user know. The main advantage is that you have a user-friendly interface that will let you view all the conversations, friends list, friend requests posts and everything else. Many parents and employers want to spy on their children and employees.
How to Hack Someones Facebook Messages?
This app can help you recover all the old messages and those messages that were deleted. With access to over 13 different chat messengers and amazing stealth features, we can see the effort the company has put in making this app user-friendly thus making it extreme difficult for people who are interested in knowing how to hack someones facebook messenger spy free. With the keylogger, you can check how to see someone else messages, you can see how to see someone else fb messages that whenever the user types in a username or password for any account, then you will be the know immediately.
This will help you get into their accounts without bothering to find out the correct username and password. This is one of the oldest techniques in the book. Many apps can be installed on your PC and help you how to read facebook messages without password and without the other person knowing, every single message, comment, and post on their account. With some amazing spy apps that have developed immensely, you can also listen to their calls.
Then, in that case, you can figure out how to hack facebook messages without password.
This is easier to perform on those who are your friends rather than with strangers. You can login to your account and search for them followed by looking through their contact info for the email. You are likely to get the password activation sent to that email. Once the chat hack software is downloaded on the computer, you can start capturing keystroke. The spy software for it will send you all the keystrokes to your email, and you can easily find out their username and password.
By using the online method, you can search for that website which allows you to face another social media account too. As there are numerous sites at the online which offers such services to you. After this two, the last but not the least one is the manual way. If you are not at all interested in downloading the app and installing it because you think that it is a risky process, then you can go with the manual way. In this hacking process, the hacking is done by using the Facebook account and by using it an inbuilt feature.
Through this hacking, the inbuilt Facebook system is used against itself.
Part 2: How to read someones whatsapp messages without their phone?
For this method, you need to require logging to the victim Facebook id, and there you need to select the forget password option. After this step, you need to continue with the steps of reset password option, through this way you can get the password of the victim Facebook account. This is the last way through which you can hack Facebook account. Know you got the answer to your question that is how to hack Facebook messages. Even with that, you get different ways of hacking.
You can choose one which you consider safe and good. All the methods which we showed you above have their own best features, but if you want the best, then we suggest you go with the application method. Through this way, you not only keep your eyes on the Facebook activities, but with that, you can also go through the other features too.
How to Hack Someone's Facebook Messages in ?
You can also spy the text messages of the phone or other social media accounts too. They take care of your privacy which affects you. The parents who are worried about their children do this for their children protection; they do this so that they can keep them away from the threats of the internet.
Someone also uses this hacking to keep looking on their partner who might be cheating on their life partner. Even the employers can also use this if their employees are wasting their time in the company in their personal things.
By using the AppSpy, you can also get to know that what else work your close one performing on their social media site. Somehow, it is up to you that which method of hacking you are using. If you are an employer or parents of a small or minor child then there hacking is legal. Any of the employers can legally hack the account of their employee so that they can see what else work they do in the office instead of doing their work. This termed as completely a legal activity.
By knowing how to hack Facebook messages without access phone , you can secretly keep your eyes on your employee work and even on the children. Now we wish that you get all those information which you want to for F acebook hack. You can choose any of the methods which are suitable for your working.
If you are talking about best one, then we suggest you go with the AppSpy because they offer you lost of features and beneficial terms that you may not get in other methods. Be specific with your term and then move with your choice, never pick an option randomly without knowing much about it. Hello guys, Have you ever needed an expert when it comes to hacking?
Recover lost accounts,school grade,boost credit score? I have been married to my husband for two years with no idea he was cheating. Suddenly i started noticing changes in behavior, i suspected something was wrong. So i confided in a friend who convinced and introduced me to a hacker. He was able to hack into my husband mobile phone, Text messages, Call logs, IG, browser history, deleted messages, Emails and WhatsApp. It seemed as though my life was spinning out of control getting to find out he has someone else. I filed for a divorce just could not continue with lies.
If you feel you are been exploited in your marriage and you need proof. I suggest you give scottcyberlord11 gmail. He has been of great help to me and i believe he can be to you.
What is the Best Way to Hack Wifes Facebook Account and Chat History Without Physical Access to Her
What is the Best Way to Hack Wifes Facebook Account and Chat History Without Physical Access to Her
What is the Best Way to Hack Wifes Facebook Account and Chat History Without Physical Access to Her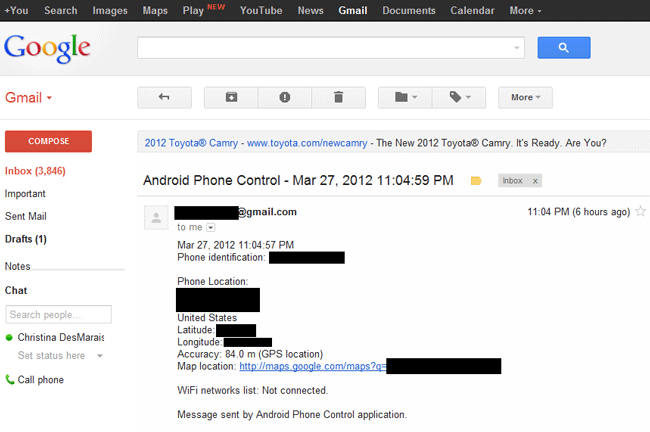 What is the Best Way to Hack Wifes Facebook Account and Chat History Without Physical Access to Her
What is the Best Way to Hack Wifes Facebook Account and Chat History Without Physical Access to Her
---
Related What is the Best Way to Hack Wifes Facebook Account and Chat History Without Physical Access to Her
---
---
Copyright 2020 - All Right Reserved
---